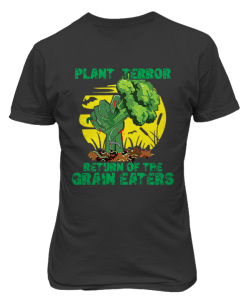 We're fast… We're terrifying… And yes, we live longer!
We are the great grain eaters!
Made specifically for vegan zombies like us, our newly designed shirts can make you feel proud that you are nothing compared to the hideous creatures that eat pork and different kinds of meat. Let's make a stand and ditch the old ways. Let's go show those meat-lovers that the green evolution has begun.
Let them cabbage, carrots and grains be terrified as our rise has already started. Let us travel to the land where only the green eaters can survive! Let us plant, harvest, and slice those green veggies into tiny little pieces. Let us crush them and turn our ordinary dishes into mouth-watering zombilicious meals that can further boost our stamina and agility. Together, no grain can ever escape our long-lasting endurance, no carrot can hide from our sharp eyes and no spinach can ever run away from our almighty strength.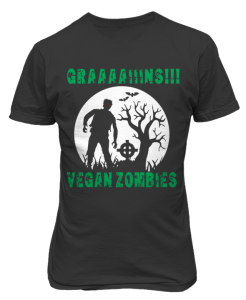 With the help of our campaign against animal cruelty, we can change the world as we become zombified. Let's not forget the value of our roots as we step into a world where only the powerfulgreen zombies can withstand the test of time. Let us spread our zombie green virus and keep those animals from being extinct.
Through our one-of-a-kind shirts, you can spread the good news and bite into a new whole grain experience. Join us as we make a stand in promoting the vegan philosophy. Be unique. Be different. Be vegan zombified.
https://fruxcl.com/wp-content/uploads/2015/04/biker-plant-terror.png
1423
1000
patrick
https://fruxcl.com/wp-content/uploads/2015/04/logo.png
patrick
2015-05-26 22:30:34
2015-05-25 14:58:52
Be Vegan Zombified – Vegan Zombie Tee`s out now!